Given a very wet Spring and a global pandemic requiring social distancing, it was no easy task to organize trail crews at the Warren Land Conservation Trusts property at the Haile Farm Preserve over the past few months. But a dedicated group of volunteers put in an amazing amount of work and the new Jade Trail was officially opened to the public on July 27th.
The new trail, which is half a mile long and includes approximately 250 feet of new boardwalk, begins at the New Industrial Trail sign and joins to the existing Dick Hallberg Trail to facilitate 'loop" walking at the Haile Farm Preserve.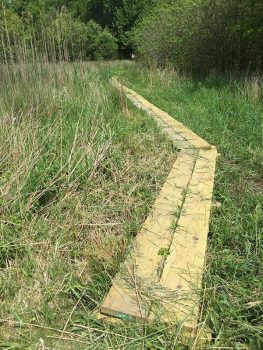 This completes Phase 2 of the planned trail work at the Haile Farm Preserve. Later this year work will commence on Phase 3, including completion of the Betty Hallberg and Osprey View trails.
Given the expanding trail system, ongoing maintenance is an issue. The Warren Land Conservation is looking for volunteers to take responsibility for maintaining specific sections of trail. This work, with loppers and clippers, can be done independently and will improve the trail system for the community. If you are interested in volunteering please contact volunteerwlct@gmail.com.