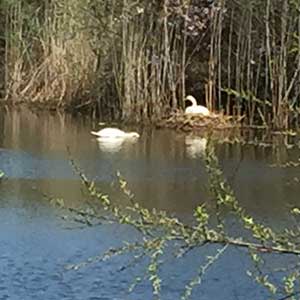 Join the Warren Land Conservation Trust and the Rhode Island Land Trust Council for an brief talk on Friday, August 21 at 6pm by entomologist Ben Gagliardi, followed by a self-guided walk at Haile Farm Preserve to kick off Land Trust Days 2020!
The Haile Farm Preserve, one of the signature properties of the Warren Land Conservation Trust, is comprised of 60 acres and has approximately two and a half miles of easy walking trails. It is remarkable for its variety of ecosystems ranging from upland forests (including numerous stone walls) to tidal marshes. Several trails lead to outstanding views of the Palmer River. The new Jade Trail, completed this spring, leaves from New Industrial Way and provides an opportunity for an interesting "loop" walk.
Ben will give an introduction about local insect diversity and include some examples/photos/descriptions/stories about insects that he has encountered along the Haile Farm Preserve trails. Following the talk, attendees will guide themselves along the preserve's trail systems and then reconvene at 7:15pm to review our discoveries.
To make the walk even more interesting, bring your smart phone to take pictures of interesting things you see along the trail and upload them to a project on the iNaturalist app and/or collect live specimens in jars/containers that you can bring along! We will set up a table for touchless viewing.
All participants must wear a face covering. Be sure to wear comfortable walking shoes and bring bug spray. This event is FREE and suitable for all ages. Leashed dogs are welcome.
This event will be limited to 25 attendees to allow for adequate distancing during the talk & along the trail. All attendees (including guests – limit 2) must be pre-registered on the MeetUp event.
Rain Date: Saturday, August 22 at 6pm.
Questions? Contact: Michael Gerhardt (Cell: 401-529-0563)
email: mgerhardt39@yahoo.com
Directions & Parking There is adequate parking at the entrance — which is at the end of New Industrial Way, Warren.